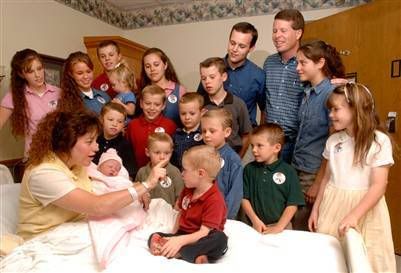 Or does that
DUGGAR
family get under your skin as well? Monday morning I was getting ready for work and I heard Meredith on the Today Show previewing the
Duggars
Big announcement after the Break.
Hmmm
... wonder what it could be??? ... Yep- their 18t
h
kid is on the way! With so many children in this world that are unwanted... it just seems selfish to me to birth 18kids! Also- they really should move on to a new letter- they have officially
exhausted
letter J!
17 children, (10 boys and 7 girls)
Joshua (& wife Anna),
Jana & John-David (twins),
Jill,
Jessa,
Joseph,
Josiah,
Joy-Anna,
Jedidiah & Jeremiah (twins),
Jason,
James,
Justin,
Jackson,
Johannah,
Jennifer
(and #18 due in January 2009!).
The Duggar parents are very good parents- the kids are very well behaved and happy. I wish they would consider passing on their values instead of their genes, you know?
Do you agree with the Duggars and their lifestyle?