Yeah- I'm gonna do it! And this is what I have decided on: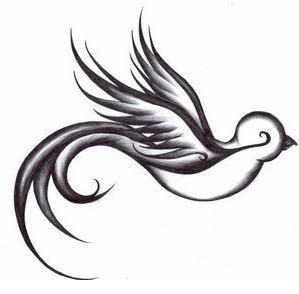 Its a Swallow Bird- and I love it! My friend, Summer, showed it to me and I like the meaning behind it: The swallow tattoo was a symbol used historically by sailors to show off their sailing experience. Of British origin in the early days of sailing, it was the image of a Barn Swallow, usually tattooed on the chest. According to one legend, a sailor with one swallow had travelled over 5,000 nautical miles (9,000 km); a sailor with two swallows had travelled 10,000 nautical miles (19,000 km). Travelling these great distances was extremely difficult and dangerous in the early days of sailing, so one or more swallow tattoos denoted a very experienced and valuable sailor. It is also legend that if the sailor drowns, the swallows will carry their soul to heaven, representing freedom and hope. The swallow also represents love, care and affection towards family and friends, showing the loyalty of the person always returning to them.
Today, the symbol of the swallow can mean many different things. It is considered a staple of the "British Traditional" and "Sailor Jerry Collins" style tattooing. Ex-Sailors of the British Royal Navy have a swallow tattoo on both hands above the thumbs as a symbol of a successful voyage.
Plus, I have
.ALWAYS.
.just. .loved.
.Birds.
I'm thinking I want it to be around this size: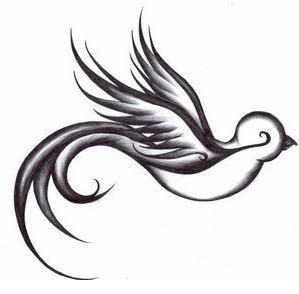 and I haven't decided where I want to put it... but I know for sure that I won't do a "tramp stamp" on my lower back (lol, Allison)... and, I can't get it their because of my hot mess back surgery scar. And I just want the bird... not something stupid or ridiculous- like it flying out of a cage or anything like that. ;)
Patrick is looking for some ideas... and we are gonna do it!